Overview
Throughout the course of season ticket renewals, Sales Managers and Sales Reps will spend countless hours managing spreadsheets...filtering, sorting, searching...repeat, repeat, repeat. By running a season ticket renewal program in FanThreeSixty, you can easily set up and automate daily tasks that are typically monotonous and time consuming.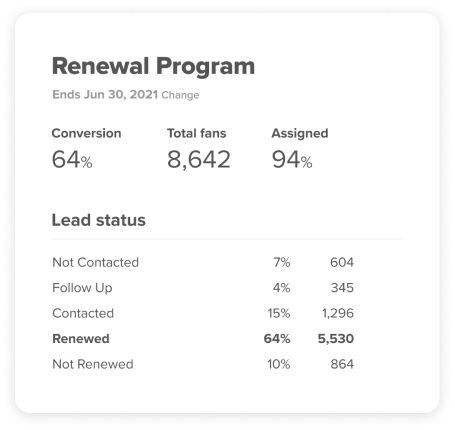 ---
Why it matters
FanThreeSixty clients have seen up to a 95% reduction in effort by automating and optimizing workflows. Using tags, filters, and customizing lead statuses all contribute to efficiencies that help you work smarter not harder.
We've seen up to a 95% reduction in effort by automating and optimizing workflows
---
Getting Started
Establish Daily Goals
Set 2-3 goals for reps to work toward in each program. Common examples include:
# of touchpoints
% connected touchpoints
% conversions
Identify segments to target
List the 2-3 segments reps should target for each day. Prioritize groups of fans that are most likely to allow a rep to reach their goals efficiently. For example:
📍 Nearby fans
💙 Highly engaged fans
🎟 Previous season ticket holders
🍃 Newly identified fans
Filter list
Add custom filters to a list by creating tags. Tags can be added to any individual fan or audience, and those tags will be available as filters in the leads list. This will allow reps to focus on their sub-segments for the day without having to sort through everybody else.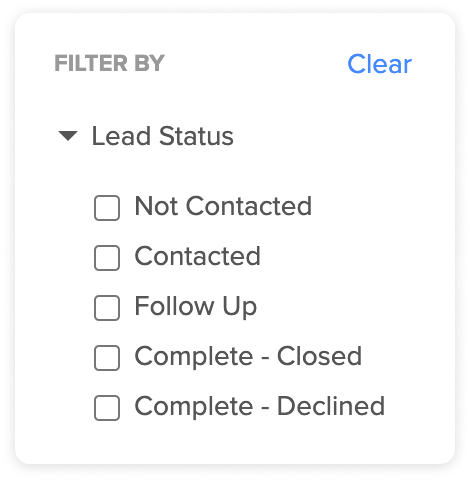 ---
Set up your program
When creating your program, choose your Season Ticket Member audience.
You can use the default workflow settings, or create your own customized workflow for this program. (See below)
Because renewals are largely focused on the relationship between a sales rep and the fan, sales reps should be assigned strictly to their fan relationship recognized within the ticketing platform. Select "honor existing relationships" to ensure the fan/rep relationship matches the established relationship in your ticketing system.
Manually assign any remaining fans who are unassigned to reps who are strong at building lasting relationships with their fans.
💡
Tip - You can use the default workflow settings, or try a custom one for this program. This is a very common "Renewal" workflow: