Overview
One of the best ways to engage fans in your mobile app is by asking a question. This type of content begs to be engaged with, and push notifications that include a question can catch users' attention much more frequently.
Fans naturally want to share their opinion and brag about their knowledge... plus, trivia and poll questions are just fun! Sending questions gives your fans a unique way to communicate back to you and to truly be involved in the gameday experience.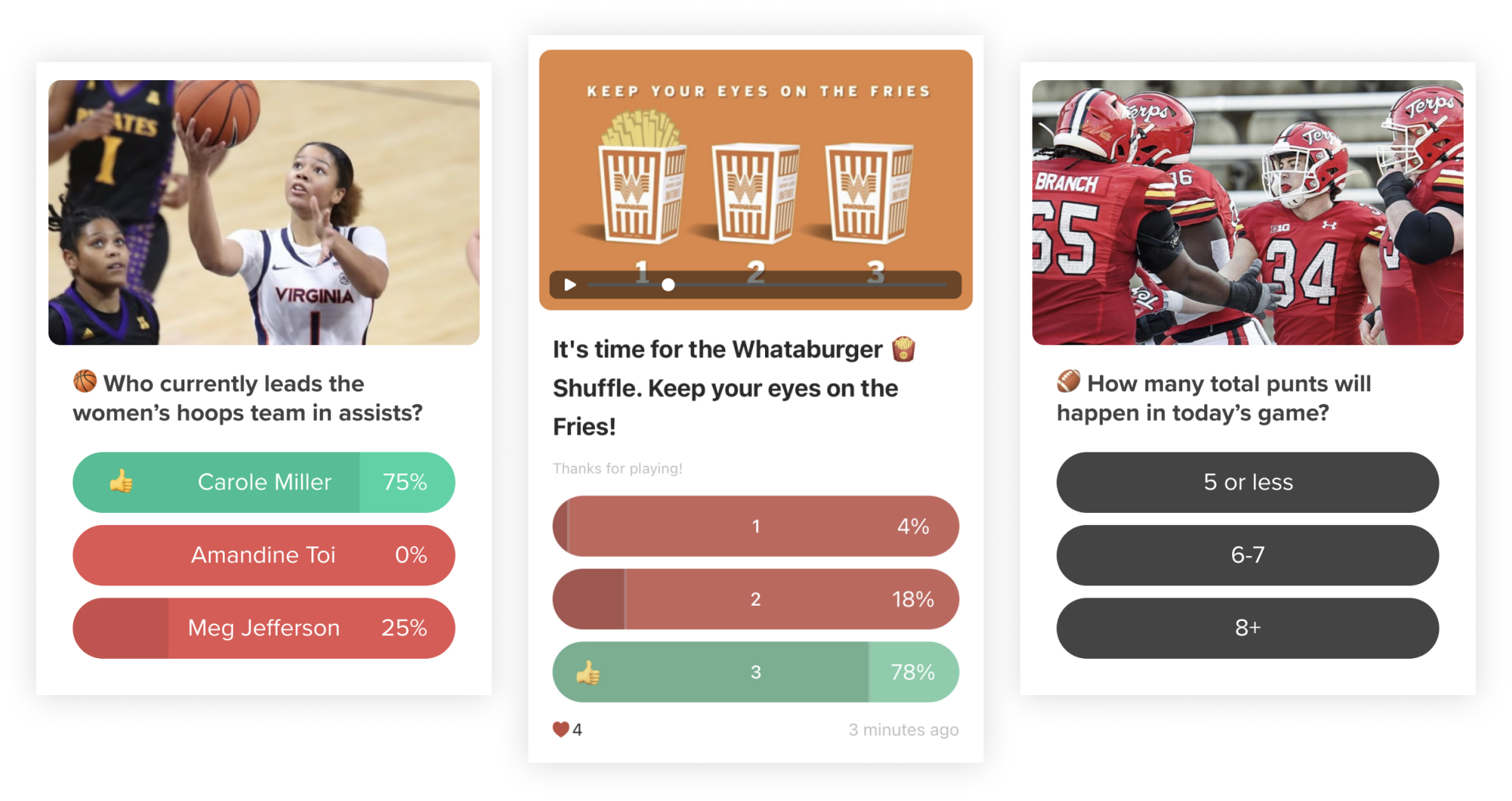 ---
Why it matters
Trivia and polls aren't the only content that will interest your users, but it's a tried-and-true way to bring in users who may not engage as often. Among our clients, daily user numbers increase anywhere from 50-200% on days when a trivia or poll question is sent.
Sending interactive content can increase your daily active users by anywhere from 50%-200%
App engagement can also signal how likely a fan is to purchase tickets. Your most valuable fans usually engage more with the app, because they're more invested in the team and many fans use the app to scan their tickets as they enter the stadium.
A typical mobile app user has a lifetime ticket spend of $300–$400, but a monthly active user has an average lifetime spend of $660. If your most valuable users are active every month, why not use trivia & polls as a tool to grow this audience?
Your most valuable users are active every month, so trivia & polls can help you grow this audience
Mobile Activity and Ticket Spend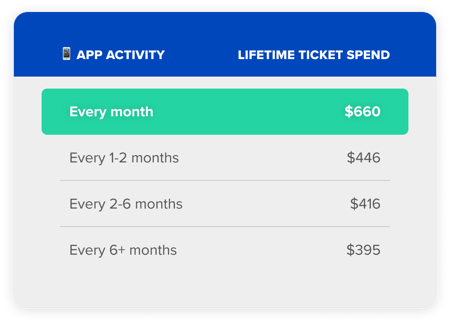 ---
Getting Started
The first step is choosing your topic! Question cards can range from topics like Player of the Game to "Which jersey is best?" to more difficult content like "Guess the stat." Once you have a topic in mind, a nice graphic always helps draw engagement. 📸
Creating a Series
If you have enough content, you can also send a series of communications to multiply your impact. A series can help build a routine for users so they know what to expect, and they'll return to the app more often. Common examples of series' include:
Sponsored Trivia Tuesday – Send one question every week for any number of weeks and see how many fans get them all correct. You can even give a prize to a lucky winner 🏆
Gameday Pick 'Em – Send several polls or trivia on gameday (all at the same time) and allow fans to predict who will score the most points or who will win the coin toss
Weekly Pick 'Em – Set up a series of polls to see who can predict the winners of each game that week. This works great for leagues with weekly schedules like soccer or football
---
Setting up a Communication
In FanThreeSixty, navigate to Mobile > Communications and start a new communication.
Give it a name so you can find it later, and select Question.
Pick the audience you want to reach (All Mobile Users is perfect!)
Don't forget to add a fun photo or video (recommended for higher engagement)
Once everything looks the way you want it, choose when to send.
💡
Tip - After sending a question, you can retarget the fans who interacted with it: