Overview
What better way to show your fans that you appreciate them than to send a special offer for their birthday? Even the simplest birthday gift can help them develop a stronger bond with your organization and create excitement they may not have had before.

---
💡
Tip - Lacking birthdays in your database? Try this play first to build up your birthdays!
Why it matters
Sporting KC implemented a monthly birthday promotion to present fans with a $10 gift certificate using the mobile app + email. The certificate could be used at any event during their birthday month. With this play, Sporting KC intended not only to surprise and delight their fans with a lucrative offer, but to lift this audience's average merchandise spend.

It worked! Average spend for these fans went up 43% (compared to previous events), and 63% of fans who received the offer redeemed it.
Average spend for these fans went up 43% compared to previous events
---
Getting Started
Kicking off this play is simple: Pick the gift you want to give your fans! Discounts on merch or tickets are the most common, because they are easy to deliver and they encourage spending.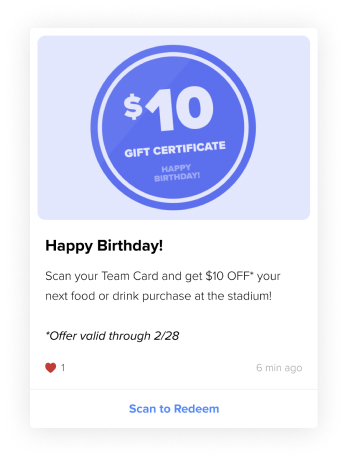 ---
1. Come up with a plan
You can set up a birthday email or mobile communication once and let it run on auto-pilot all year. Frequency of communication can vary based on the other communications you plan to send to your fans but our recommendations include the following:
An email and mobile communication on the first of the month
A reminder email and mobile communication 7 days before the expiration
Optional — Set up a mobile communication for the event day to remind fans about the offer. (Especially if it's only redeemable at an event!)
---
2. Create your content
To save time, create imagery and copy that can be used for both email and mobile communications. The imagery should clearly communicate the offer. Remember to include Terms & Conditions for your offer, as well as information on how to redeem (i.e. does the fan need to show their email, mobile device, etc.). This will be dependent upon the incentive you are offering.
---
3. Send it! (Or schedule it 😃)
Select the Birthdays this month audience (this is automatically built for you).

Schedule your emails and communications to align with your communication plan. For mobile communications, you will need to include push notifications so fans are immediately notified about their offer.
💡
Tip - Consider using fun and creative push notifications! They usually get the best fan engagement.